Latest news
Press release and Lains Blog
Mullenscote Dog Training Centre and Lains Shooting School have formed a partnership
More

Shooting Times
Read the article on growth business.
More

New Shooting Stand in Place
We now have in place a new "Variable Driven Pheasant Stand.
More

Shooting School goes Wireless
We are in the process of moving to a Wireless Clay Release system on the Shooting School.
More

New Shooting Stand in Place
A new Bowman ABT trap and Shooting Stand gives
More

Read archive news here

Welcome to Lains Shooting School
Lains Shooting School and Mullenscote Gundogs were founded in 1987. The Shooting School offers the discerning shooter the opportunity to shoot a variety of targets from the grounds 50 traps in a relaxed countryside atmosphere.
The Schools professional Shooting Instructors specialise in introducing people from a variety of backgrounds into the highly engaging sport of clay pigeon shooting. Our Young Guns Academy and Ladies Days offer the perfect introduction, ensuring that safety, etiquette and shooting skills are thoroughly learned in a safe and educational atmosphere.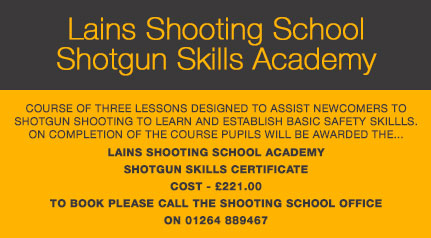 Mullenscote Gundogs
Howard leads the team at Mullenscote and specialises in training and assisting handlers to get the best from their dogs. Howard and his Mullenscote Dog Training Team can be seen right across the country giving demonstrations and running clinics and seminars.
Click here to visit website